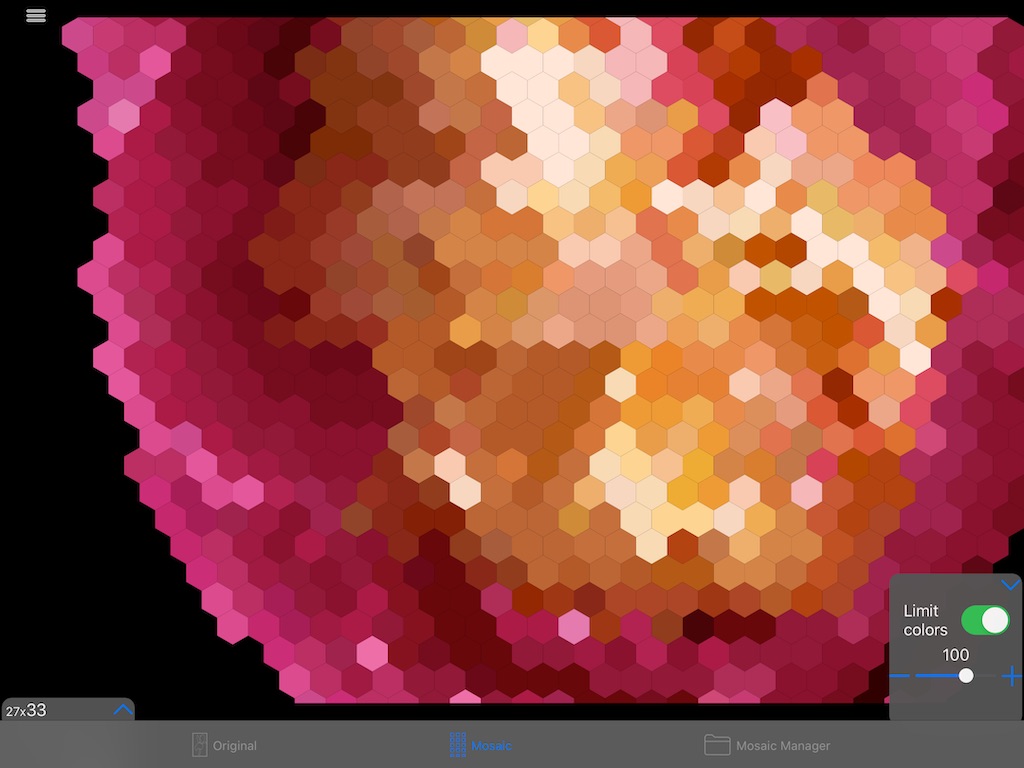 Overview
ColorHints Mosaic creates a Mosaic or pixelated version of a photograph. The Mosaic you create can be shared with others, saved, or printed.
To create a Mosaic, simply
take or choose a photograph
choose the number and type (circle, diamond, hexagon, isosceles triangle, rectangle, or right triangle) of tiles for the Mosaic
select the Mosaic tab to see the results
Too many colors in the Mosaic for your purposes? Just tap the "Limit" button and then adjust the slider to choose the number of colors that does suit your purposes.
Want to share your Mosaic? Share directly from ColorHints Mosaic via social media or Air Drop, save it to iBooks as a pattern, or send it to another App, like Color Hints or QuiltSandwich (from NNN Software).
Want a printed copy? Print your Mosaic as poster as large as 16 feet (200in or 500cm) on a side. Or, print an annotated version of the Mosaic complete with a table of colors, sorted by the frequently occurring colors.
Features
Create a Mosaic from a photograph (from your camera roll, or take a new photo)
Select the type (circle, diamond, hexagon, isosceles triangle, rectangle, or right triangle), tile aspect ratio, and number of tiles
Select the number colors to be used in the Mosaic
Replace the colors of the Mosaic with those from a palette to match explicit colors of beads, wood, or other media * New *
Share the Mosaic via social media (Facebook, Google+, Twitter, Email, Message, etc.) or AirDrop to a friend
Share with other apps like QuiltSandwich or Color Hints
Create Mosaics to use for
tile patterns
knitting patterns
beading
cross-stitch patterns
pixel quilt designs
minecraft art
posterization
student art
Requirements
ColorHints Mosaic requires an iPhone, iPad, or iPod Touch running iOS 10.0 or later.
Privacy
Please see the ColorHints Mosaic privacy statement for details.
Contact us
Send EMail to Swaystairs support