bnClock
Swaystairs Software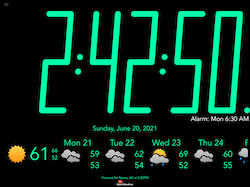 Notice
On January 3rd, Yahoo changed the interface to retrieve weather information. As a result, bnClock currently is not able to display the weather forecast. We are working on a fix for this issue.
Overview
bnClock (big numbers) is a free clock app that shows the time using digits as large as possible on your iPhone, iPad, or iPod Touch.
This documentation describes version 2.4 of bnClock
Features
Alarm clock with alarm sound selections, including your audio library
New Three display formats: 7-segment, Nixie, and text
Weather for you location (or specify another location)
Choose between 3 colors for your clock digits
Adjust the brightness of your clock, including automatically dimming from sunset to sunrise
24 hour clock format available
and more...
Requirements
bnClock requires an iPhone, iPad, or iPod Touch running iOS 8.2 or later
Contact us
Contact us here