Help: Swatches
What are Swatches?
Color Hints swatches are photographs of objects; cloth, tile, paint, clothing, etc. Swatches are created selecting photographs from one of five sources:
Photographs that already existing in Color Hints
Photographs that exist in your photo library
Photogrpahs that are found on web pages New in 2.2
Taking a new photograph with your device's built-in camera
Taking a series of new photograph with your device's built-in camera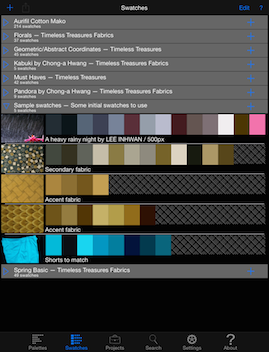 The Swatches tab
From the Swatches tab, the following can be done:
Display a large version of a color shown in the Swatches tab by using a long press on a color
Creating or editing Swatch Collections
Click the + button in the tool bar (upper left) to create a new collection of Swatches.
A Swatch Collection must have a name. Without a name the Swatch Collection will not be created.
The Swatch Collection can be protected from accidental deletion by turning off the "Collection can be deleted" switch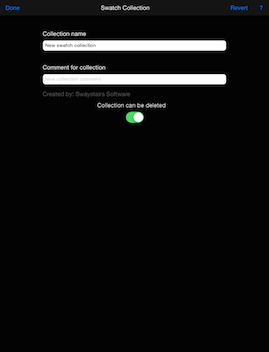 Creating or editing a Swatch Collection
Creating or editing a Swatch
Click the + button in the Swatch collection header to add a Swatch to the collection. Or, an existing Swatch can be double tapped to begin editing.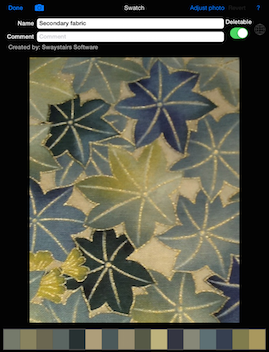 Editing a Swatch
Each Swatch can have a name and comment. These are not required, but may be helpful in remembering what each Swatch is based on.
Selecting a source for a Swatch photograph
Each Swatch is based on a photograph. There are four basic sources for photographs;
A new photograph taken with your iPhone or iPad camera
A photograph previously taken by Color Hints
A previously taken photograph that is on your photo roll
An photograph found on a web page New in 2.2
To create a series (or collection) of Swatches, use the button with multiple cameras. This will turn every photograph taken into a Swatch and return to take another photograph. Simply tap the Cancel button to finish.
Tap the globe ICON to choose a photograph from a web page. Use the web browser to find a page with the photograph desired. Tap the eyedropper and choose from photographs that are highlighted with a green border. Tap the desired photograph to choose it. Occasionally more than one tap on the photograph is required. In rare instances, Color Hints will be unable to retrieve the desired photograph. If possible, try another version of the photograph.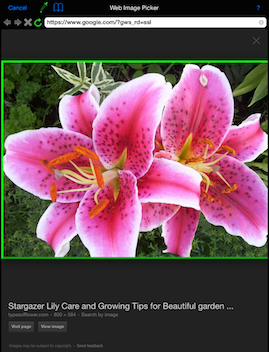 Selecting a Swatch Photograph from the Web
Rearranging and deleting Swatches in the Swatch tab
The Edit button in the tool bar of the Swatches tab allows swatches to be deleted, their order rearranged, or edited (click the

button). Click the Done button when finished editing.
When a Swatch Collection is deleted, a confirmation is required that will indicate how many Swatches will be deleted with the collection.
Sharing Swatches
Select a Swatch to share by tapping the Swatch. With a Swatch selected, tap the action button

. The choices available will depend on which services are configured on your device. Possible choices include
Facebook
Twitter
Message
EMail
Weibo
Copy to paste in another app
A photograph taken in Color Hints can also be saved to your photo roll.
Short cuts
Double tapping a swatch will edit the swatch
Sliding from right to left on a swatch will initiate a delete
A tap and hold on a color of a swatch will display a large version of that color along with the RGB (Red, Green, Blue) and CMYK (Cyan, Magenta, Yellow, black) values for the color.